EarCentric EasyCharge Rechargeable Hearing Aids
As low as
$450.00
Regular Price
$1,289.00
For mild to severe hearing loss Tell me more ...

Free

shipping,

Free

return,

Free

charging base is included!
No more embarrassing dead battery surprises
Whole day of reliable hearing with a single charge
Save an additional $400/pair on batteries each year
What can EasyCharge do for you?
EasyCharge has many benefits at an affordable price. If you need further help deciding, please contact us now.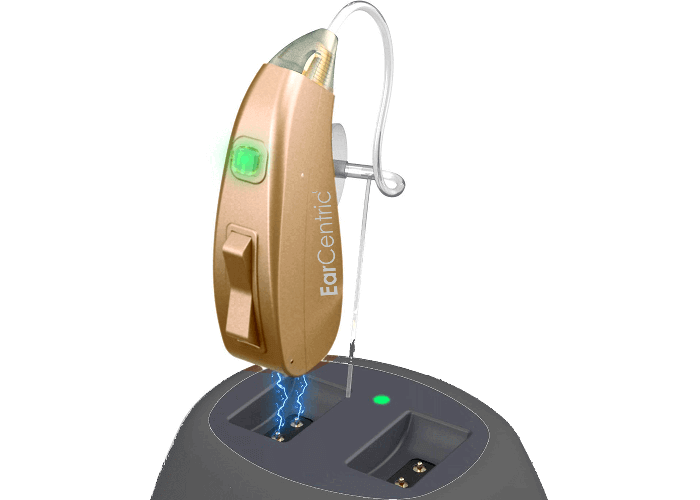 Life doesn't stop, and neither should your hearing aid.
We understand how frustrating or embarrassing it can be to lose power at the wrong moment. For mild to significant high frequency hearing loss, EarCentric EasyCharge rechargeable hearing aids give you the power to go all day long, and into the night.
One charge is all you need.
Before going to bed, simply place your EasyCharge hearing aids on the charging base. When you wake up, the batteries will be fresh and ready for a whole day of dependable hearing.
Easy to operate with 2 environment optimization settings.
2 hearing optimization presets give you confidence that you'll be able to hear properly every time, in every environment. Plus, they are easy to operate: one simple click to switch between quiet and noisy environment.
Innovative noise reduction
No more whistle with advanced feedback cancellation technology. Our noise reduction technology allows you to focus on the sounds that you want, eliminating annoying background noise.
Catch up on everything you love with EasyCharge!
EasyCharge is ideal for...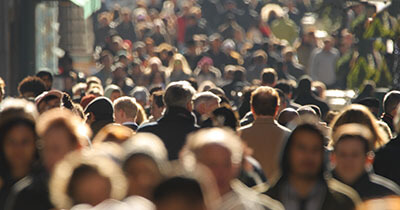 Hear Everywhere
With the 2 optimization settings, channels, your hearing will be improved no matter where you are: at home, watching a movie, eating at a restaurant, or working out at the gym.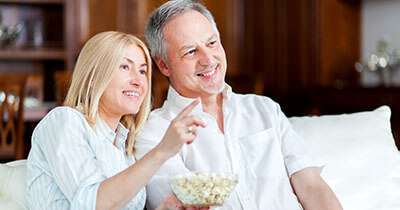 Watch TV without Turning Up the Volume
Is your TV volume set to max, and yet you hear almost nothing? With EasyCharge, that problem is gone. You'll be able to hear the music, the dialogue – everything!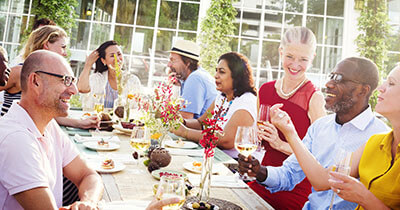 Just Talk!
Go out and talk to your family and friends! No longer will you need to ask them to raise their voice. Every conversation will be clear as day!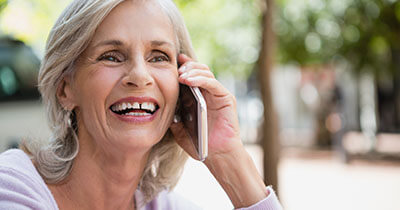 Chat on the Phone
Effortlessly hear the person on the other line without any problems or intervention, avoiding repeated conversations.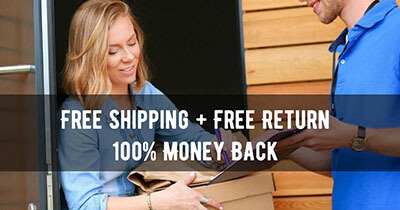 Peace of Mind
Free shipping, free return, 30-day 100% money back guarantee with lifetime support.
Peace of Mind
Free Shipping Free Return
EarCentric EasyCharge hearing aid has everything a high end hearing aid has, minus the $3,000 pricetag!
Easy Controls
Change between the different audio settings and adjust the volume with the touch of a button!


Tiny and Comfortable
With a nearly discreet, nearly invisible design, the hearing aid simply slots behind your ear and fits snugly.
Fits Well With Glasses
Our hearing aid is designed for a comfortable fit with glasses on and long time wearing.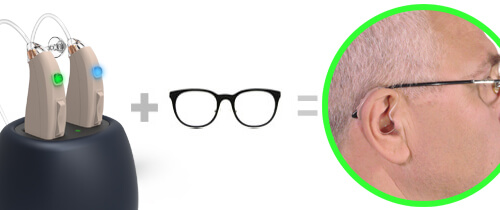 What's the catch? There is none! Here's how we get our prices so low: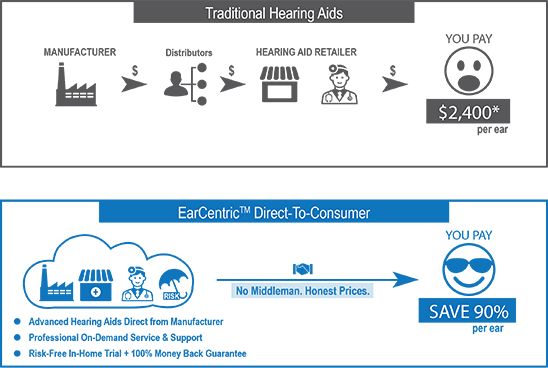 Cut out the middleman We work directly with the manufacturer.
No sneaky markups by the hearing clinic.
No retail markups.
No hidden fees!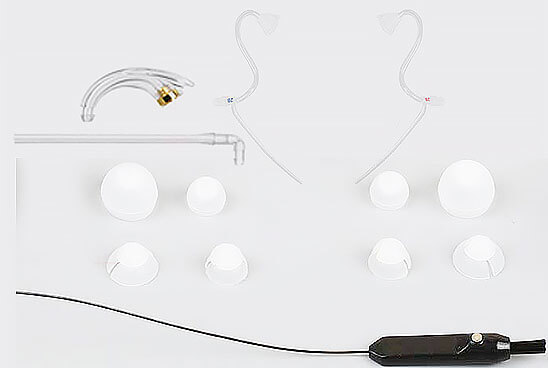 Same Technology for 90% Less
No time-consuming audiologist appointments. Our hearing aids cater to a wide range of hearing problems, from mild to moderately severe. With multiple hearing channels, almost everyone with hearing loss can be helped by our hearing aids! And if you're not one of them, just return it to us within 30 days for your money back guaranteed!
What's Included?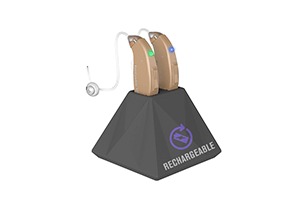 Pair of Rechargeable Hearing Aids
Equivalent to $3,000 hearing aids. Plus $400/year saving on batteries.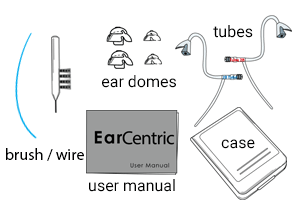 Quick Start Kit
Comfortable tubes and ear domes, cleaning brushes and tools, and a water resistant carrying case.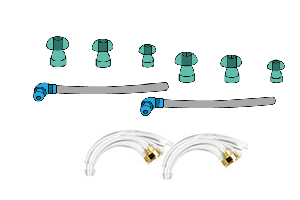 Sound Boost Kit
Sound boost kit included for signicant and severe hearing loss.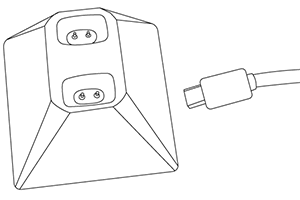 Dual Charger
Dual charging base with built-in overcharging protection circuit. Quick full charging in 3 hours (two hearing aids).
Frequently Asked Questions
Are these real hearing aids?
Will your hearing aids work for me?
Which model will work for me?
What's included with your hearing aids?
Do I need a hearing test?
Should I buy one or a pair of hearing aids?
Why are the prices of your hearing aids so low?
How much does shipping cost?
How long will it take for the hearing aids to be delivered?
How about your 30 day money back guarantee?
If I need service or repair, how will I go about it?
Can I use my FSA cards? Do you accept insurance?
More Information

| | |
| --- | --- |
| Brand | EarCentric |
| Type | Behind-The-Ear |
| Model Number | N/A |
| Hearing Loss | Mild, Moderate, Significant, Severe |
| Features | Rechargeable, 2 Channels, Voice Detection, Noise Reduction, Feedback Blocking, Wind Blocking |
| Battery | Rechargeable (Built-in) |
| Operation Hours | Rechargeable Battery. 20 Hours of hearing time. 3 hours charging time. |
| Price Range | Best Value |
| Age Groups | All Ages |
&nbsp&nbsp Frequently Asked Questions and Answers
---
&nbsp&nbsp Ask a question
Check items to add to the cart or