Bluetooth Hearing Aids - Disco MAX Wireless Rechargeable
As low as
$899.00
Regular Price
$1,999.00
Hearing without compromise
Disco MAX hearing aids are wireless, rechargeable, directional, adaptive to your needs.
2 bonus battery modules included with your purchase of a pair of Disco MAX hearing aids. a $100 value!
EarCentricTM Disco MAX Wireless Rechargeable solves the three most common complaints for hearing aid users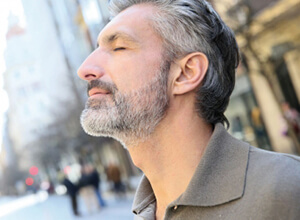 Hearing speech in noisy environments
With EarCentric's latest version of American-made adaptive dual directional microphones and 4-channel microprocessor, wearers will experience improved speech recognition in demanding environments like restaurants and cocktail parties, crowded gatherings, and even noisy malls. This technology is so advanced that the hearing aids suppress wind, a common complaint among wearers. Now you can go bike riding, play golf, enjoy dinner out with your friends – all with the confidence that you'll hear every word.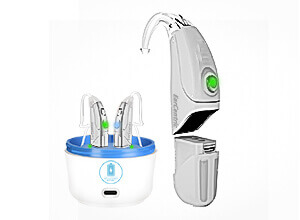 Rechargeable power
Keep on going with rechargeable freedom. With Disco MAX Wireless Rechargeable, changing batteries is a thing of the past. Simply place your hearing aids in the included charging dryer overnight. The next morning, you and your hearing aids are ready to go – refreshed, dehumidified, and ready for up to 20 hours of daily use. A pair of rechargeable battery modules can take the place of an estimated 400 disposable batteries. If you forget to charge, you can use the spare battery modules to take on the world. Get a new battery module every other year to keep your hearing aids at peak performance all the time.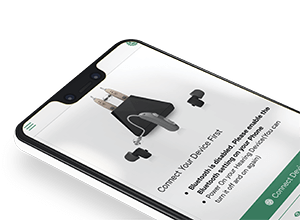 Easy of use, all through your smart phone
The mobile App, compatible with Android and Apple iOS, turns your smartphone into a discreet control center for your hearing aid programs – volume, bass, and treble. All you need to do is download the app – no other intermediary device is necessary, and it's free!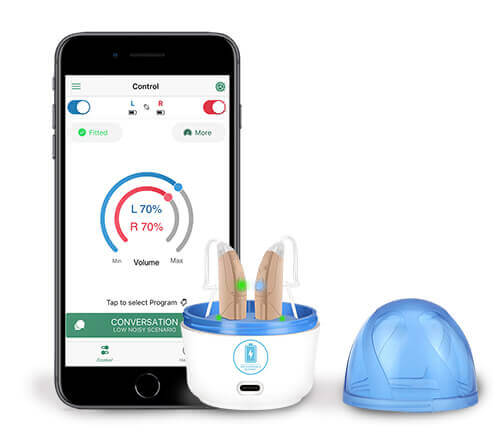 Free Shipping Free Return
100% Money Back Guarantee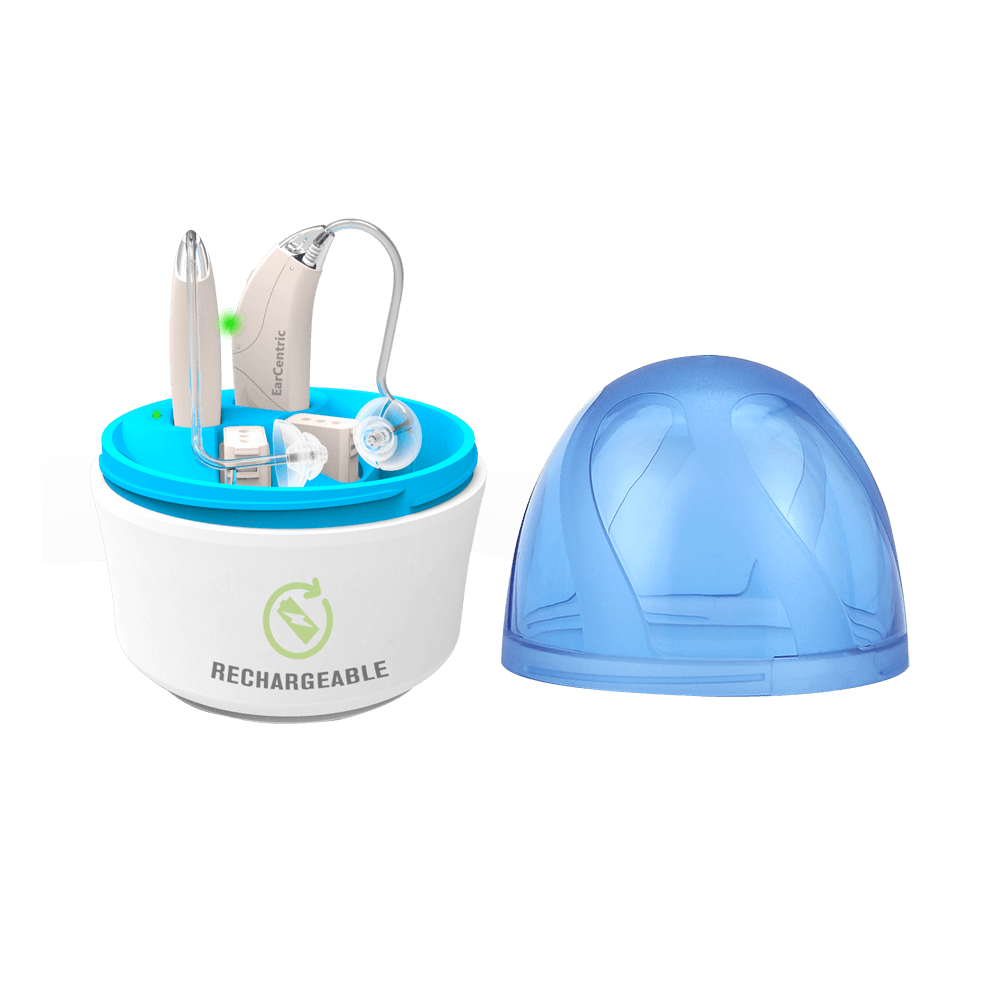 Clear, Rich Sound
Enhanced speech understanding in noisy backgrounds. Digital sound processors reconstruct natural sound to counteract your hearing loss.
Rechargeable, Detachable, Replaceable
Batteries don't have to hold you back. Reliable, all-day hearing with one simple charge, so you no longer have to worry about unexpectedly running out of power in the middle of the day. Detachable, replaceable, and affordable battery modules significantly lower your cost of ownership.
3 Days of Reliable Hearing Power on One Charge
EarCentricTM Disco hearing aids come with 2 bonus rechargeable battery modules*, providing up to 36 hours of reliable hearing (each battery module lasts 20 hours per charge). If you forget to charge your hearing aids, simply clip them on and you're ready to go.
Try them Free
* 2 bonus battery modules are included with purchase of a pair of Disco MAX Wireless Rechargeable hearing aids. $100 value, limited time offer while supplies last.
Turn your smartphone into a remote control
Adjust volume, programs, and options from a smartphone with the free mobile app for iPhone and Android without worrying about the tiny controls on your hearing aids. And as always, you can change hearing programs on your hearing aids directly, right out of the box, no smartphone needed.
| # | Hearing Program |
| --- | --- |
| 1. Conversation | Everyday. Watching TV, listening to the radio, family time at home. Boosts all sounds. |
| 2. Social or noisy environments | Restaurants, meetings, parties, or loud environments with background noise. |
| 3. Traffic | Hearing in noisy places such as streets with constant background noise. |
| 4. Outdoors | Reduces wind blowing and whistling sounds and makes for clearer hearing. |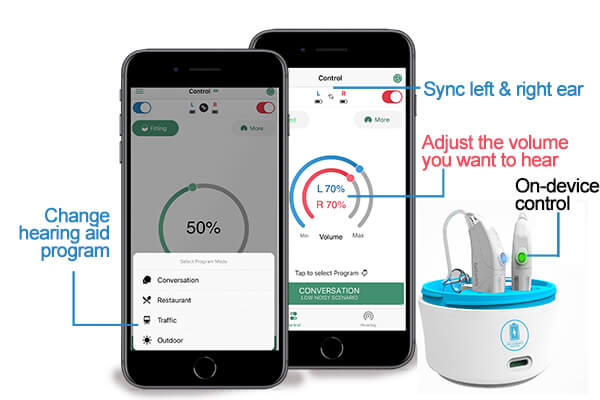 4 hearing optimization presets give you the confidence that you'll be able to hear properly every time, in every environment. Plus, they are easy to operate: one simple click on the hearing aid, or through your smartphone.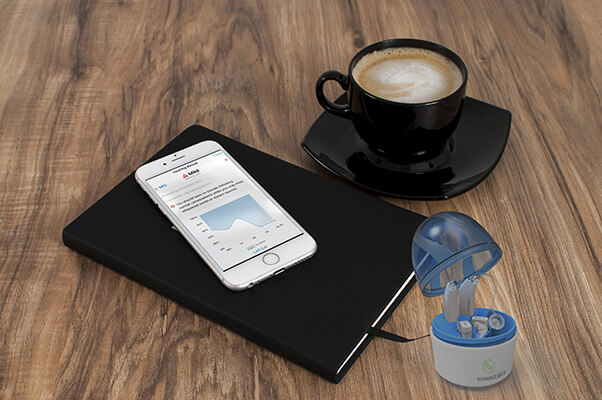 An Audiologist In Your Own Pocket. No More Office Visits
Disco MAX's mobile app is like having an audiologist in your own pocket, there for your convenience anytime and anywhere. Take a quick and simple hearing test directly on the mobile app while drinking coffee, without even having to leave your home.
Once you complete the in-app hearing test, your hearing aids will automatically adjust themselves to create a perfectly personalized hearing experience for you.
EarCentric Disco MAX Wireless Rechargeable hearing aid has everything a high end hearing aid has, minus the $5,000 pricetag!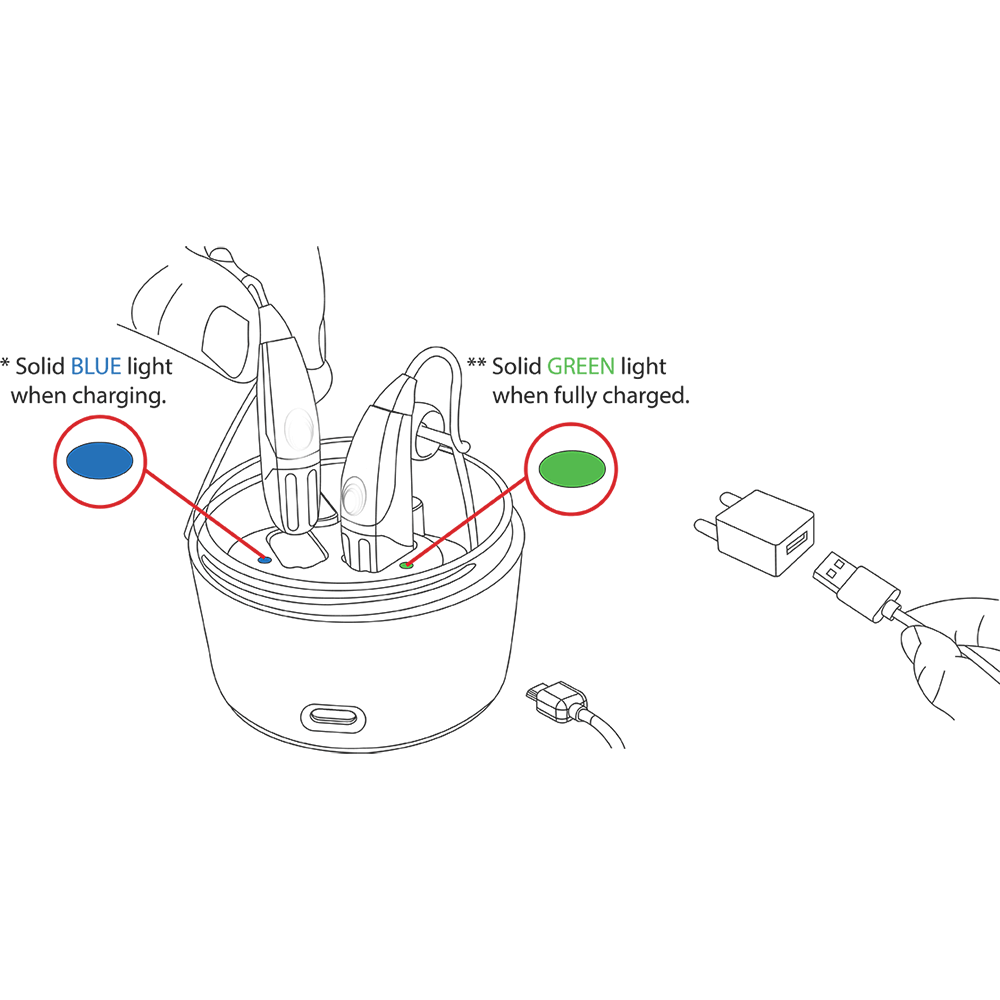 Features
- High performance, modular hearing aids come with 2 additional rechargeable modules for short trips where no power source is available.
- Easy-detach & fast-charging hearing solution provides up to 36 hours of use.
- Innovative replaceable power module design is easy to use and safe to replace.
- The contact surfaces have been processed with nano anti-sweat technology.
- The patented double-snap-joint battery installation design ensures that the battery is more secure.
- External force pulling protection built in, which is more reliable than magnetic contact installation.
- Variety ear dome pack included – so you can choose the size that fits your ear.
- FDA Registered Class One Hearing Aids.
- High quality American-made electronic components.
- Intended for mild to significant hearing loss.

Easy Controls
The dual microphones can tell when you're dining in a restaurant, watching TV at home, or meeting at work, and then automatically adjust to wherever you are. You can always change between the different audio settings and adjust the volume with the touch of a button.


A nearly invisible profile
A behind-the-ear design with thin, clear tubing is so discreet, people don't realize you're wearing a hearing aid. The lightweight casing is made of medical grade materials for sensitive skin, so comfortable that sometimes, you forget that you're wearing one.
Fits Well With Glasses
Our hearing aid is designed to provide a comfortable fit for long-term wearing, even with glasses on.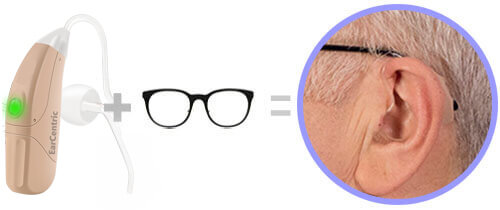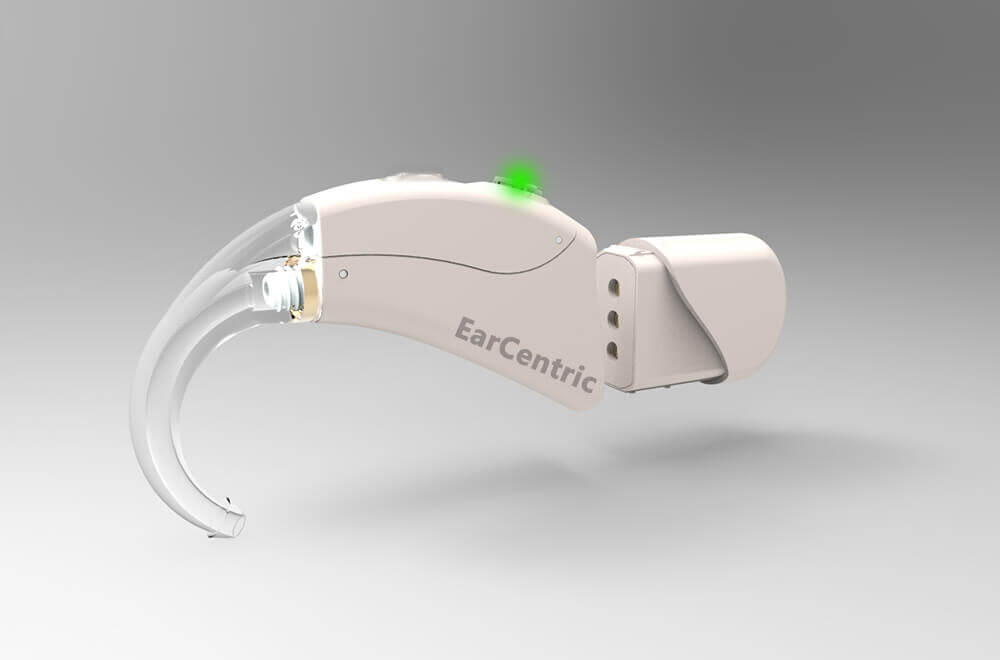 Technical Specifications
Disco MAX Wireless Rechargeable hearing aids: Pair/Ear
Charger dock with USB adapter × 1
Spare battery: 1 for each ear*
TUBE: (L/R)
Round top Ear Domes: (9mm/11mm/13mm )
Hybrid Ear Dome: (9mm/12mm)
Cleaning brush/Wire
Sound boostkit set
* 2 bonus battery modules ($100 value) are included with purchase of a pair of Disco MAX hearing aids. Limited time offer while supplies last.
What's in the Box
Disco MAX Wireless Rechargeable hearing aids: Pair/Ear
Charger dock with USB adapter × 1
Spare rechargeable battery module: 1 for each ear*
TUBE: (L/R)
Close-tip Ear Domes: (9mm/11mm/13mm )
Hybrid Ear Dome: (9mm/12mm)
Cleaning brush/wire
Sound boostkit set
* 2 bonus battery modules ($100 value) are included with purchase of a pair of Disco MAX hearing aids. Limited time offer while supplies last.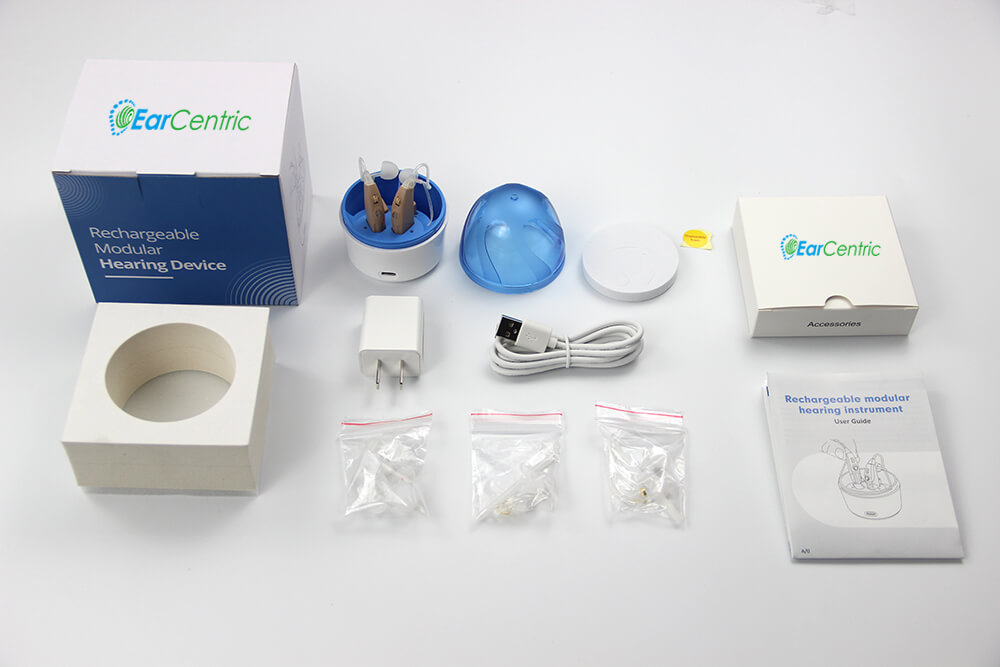 Disco MAX Wireless Rechargeable is ideal for...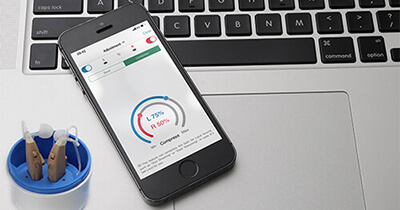 Take on an Active Life
A dynamic life means you'll be wide-open to different levels of sounds. This hearing aid fits a wide variety of environments, so that wherever you travel, you will be able to hear!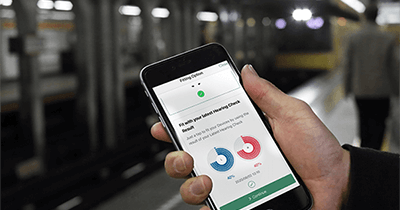 Hear Everywhere
With the 4 optimization settings, dual directional microphones, and 4 channels digital processor, your hearing will be improved no matter where you are: at home, watching a movie, eating at a restaurant, or working out at the gym.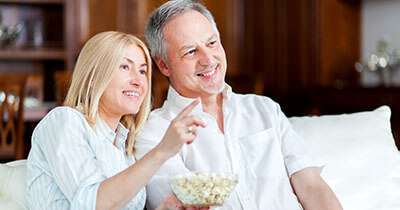 Watch TV without Turning Up the Volume
Is your TV volume set to max, and yet you hear almost nothing? With Disco MAX Wireless Rechargeable, that problem is gone. You'll be able to hear the music, the dialogue – everything!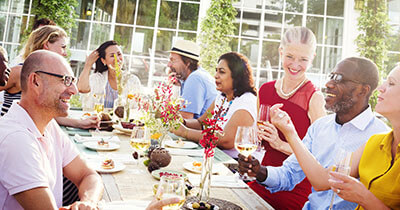 Just Talk!
Go out and talk to your family and friends! No longer will you need to ask them to raise their voice. Every conversation will be clear as day!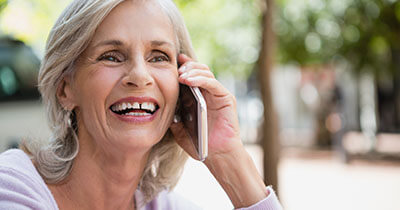 Chat on the Phone
Effortlessly hear the person on the other line without any problems or intervention and without driving them up the wall, avoiding repeated conversations.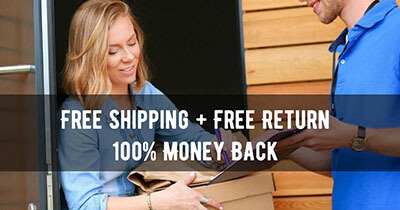 Peace of Mind
Free shipping, free return, 30-day 100% money back guarantee with lifetime support.
What's the catch? There is none! Here's how we get our prices so low: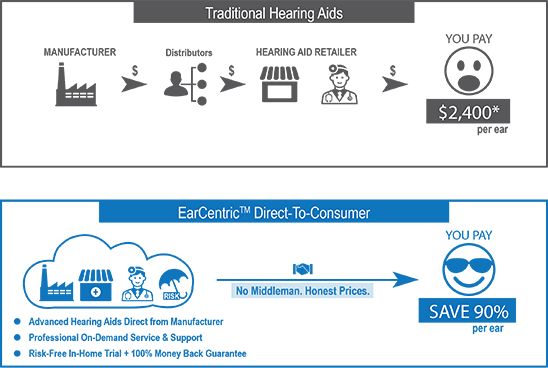 Cut out the middleman We work directly with the manufacturer.
No sneaky markups by the hearing clinic.
No retail markups.
No hidden fees!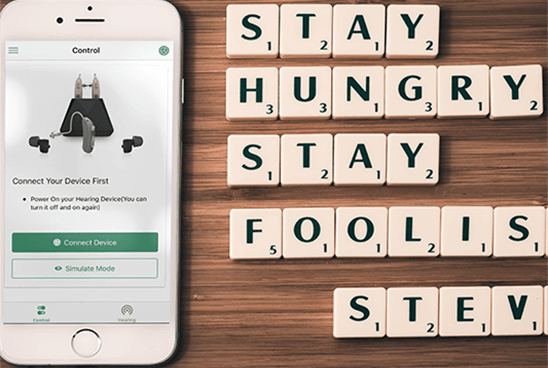 Same Technology for 90% Less
No time-consuming audiologist appointments. Our hearing aids cater to a wide range of hearing problems, from mild to moderately severe. With multiple hearing channels, almost everyone with hearing loss can be helped by our hearing aids! And if you're not one of them, just return it to us within 30 days for your money back guaranteed!
What's Included?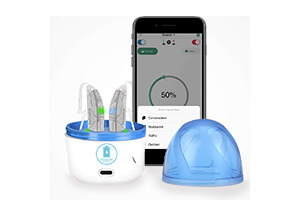 Rechargeable Hearing Aids
Equivalent to $5,000 hearing aids. Plus $400/year saving on batteries.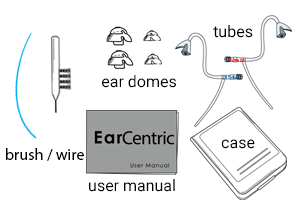 Quick Start Kit
Comfortable tubes and ear domes, cleaning brushes and tools, and a water resistant carrying case.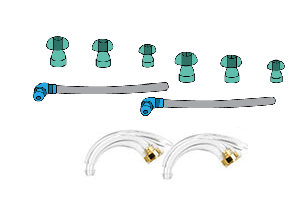 Sound Boost Kit
Sound boost kit (optional) included for signicant and severe hearing loss.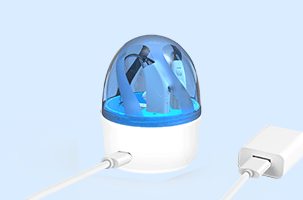 Dual Charger
Dual charging base with built-in overcharging protection circuit. Quick full charging in 3 hours (2 hearing aids + 2 additional battery modules).
Frequently Asked Questions
Are these real hearing aids?
Will your hearing aids work for me?
Which model will work for me?
What's included with your hearing aids?
Do I need a hearing test?
Should I buy one or a pair of hearing aids?
Why are the prices of your hearing aids so low?
How much does shipping cost?
How long will it take for the hearing aids to be delivered?
How about your 30 day money back guarantee?
If I need service or repair, how will I go about it?
Can I use my FSA cards? Do you accept insurance?
More Information

| | |
| --- | --- |
| Brand | EarCentric |
| Type | Behind-The-Ear |
| Model Number | Disco MAX |
| Hearing Loss | Mild, Moderate, Significant, Severe |
| Features | Rechargeable, App, Programmable, Bluetooth, 4 Channels, Voice Detection, Directional Microphones, Dual Microphones, Noise Reduction, Feedback Blocking, Wind Blocking |
| Battery | Rechargeable (Built-in) |
| Operation Hours | 20 hours of non-stop hearing each charge, Detachable replaceable battery module |
| Price Range | Best Value, Advanced |
| Age Groups | All Ages |
| More Features | Wireless bluetooth hearing aids Free iOS/Android apps Dual directional microphones Replaceable rechargeable battery module - Significantly lower ownership cost. |
&nbsp&nbsp Frequently Asked Questions and Answers
---
Only one side of my EarCentric DX800 charger is charging the hearing aid and spare battery. The light is blue, but the batteries don't charge and the light never turns green. The other side charges and the light turns green. I have to switch the battery a

The charging port is directional. Please try to sit your battery in a different direction it should charge.
Read more

How do you detach the earpieces from the body? Manual shows an arrow suggesting to twist in a counter clockwise manner.

It is super easy! check the diagram below:

 

Read more
add a question
&nbsp&nbsp Ask a question
Check items to add to the cart or